ECOELATE promotes pure authentic organic cotton with herbal-dyed garments for just-born babies. The fabrics are made of 100% non-GMO Surabhi organic cotton which has a long staple fibre length. The fabrics are coloured by 100% biodegradable native herbs using traditional Processes. This is the only baby garment carrying the GOTS certificate. The garments are soft on the baby's skin & help the skin breathe. They are non-toxic, prevent allergies and itching, anti-sceptic, antibacterial. Available in attractive soft pastel herbal shades and prints.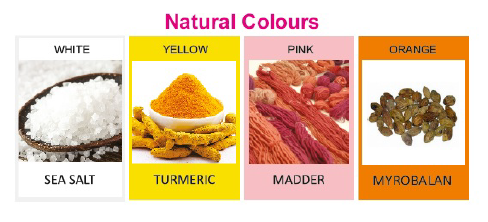 Kadhalii have their own Authentic Organic Cotton farm and cultivate GMO free cotton with herbal dyed herbal dyed organic herbal dyed clothing products which are biocompatible. Herbal dyed garments are extra smooth, therapeutic to the eye, mind and body.
Fabric is made with Cotton and Banana treated with Turmeric, Tulshi, Neem, Aloeveara. Comfort to skin. It is Wellness Product.
Everything we do pollutes or taxes the Earth in some way. It is a sad and inescapable fact. But there are things we can do as individuals and businesses to lighten our impact on the environment. Such as buying and throwing away less, reusing products whenever possible, and recycling everything we can. Recycled cotton yarn typically comes from the remnants left over after manufacturing T-shirts (Fabric cutting clips) and used cotton garments (cut open into fibre) while plastic fibre is extruded from recycled plastic bottles. You will sometimes see this, referred to as Soda bottle yarn.